What We're Loving: Neutral Area Rugs from EQ3
There's something about a neutral, minimalist area rug that just speaks to us. Don't get us wrong, we're loving the resurgence over the last few years of more traditional rugs with ornate patterns, time worn appeal, and a classic sophistication. Still, a neutral rug speaks to our minimalist side. They're simple and easily mix with other elements in a room.
Of course our go to for neutral area rugs is the Canadian furniture manufacturer and design company, EQ3! Their carefully thought out collection of well made and well designed area rugs is perfection. Each rug is beautifully elegant, featuring subtle colours and reserved patterns.
Continue reading to see some of our favourite neutral rugs from EQ3!
EQ3 Klip House Rug
Named after an eighteenth-century rooming house or inexpensive place to sleep, the Kip House rug is woven with symbols based on the traditional symbology used by nomadic people in the 1920s to spread information and pass along messages on train cars or in alleyways. Designed by Toronto-based Emily Tu and Edmond Tung, this traditional kilim-constructed, or flat tapestry-woven rug is made of dip-dyed New Zealand wool. The dip-dye process allows for more depth in the colour of the rug, and the longer New Zealand wool creates both durability and softness.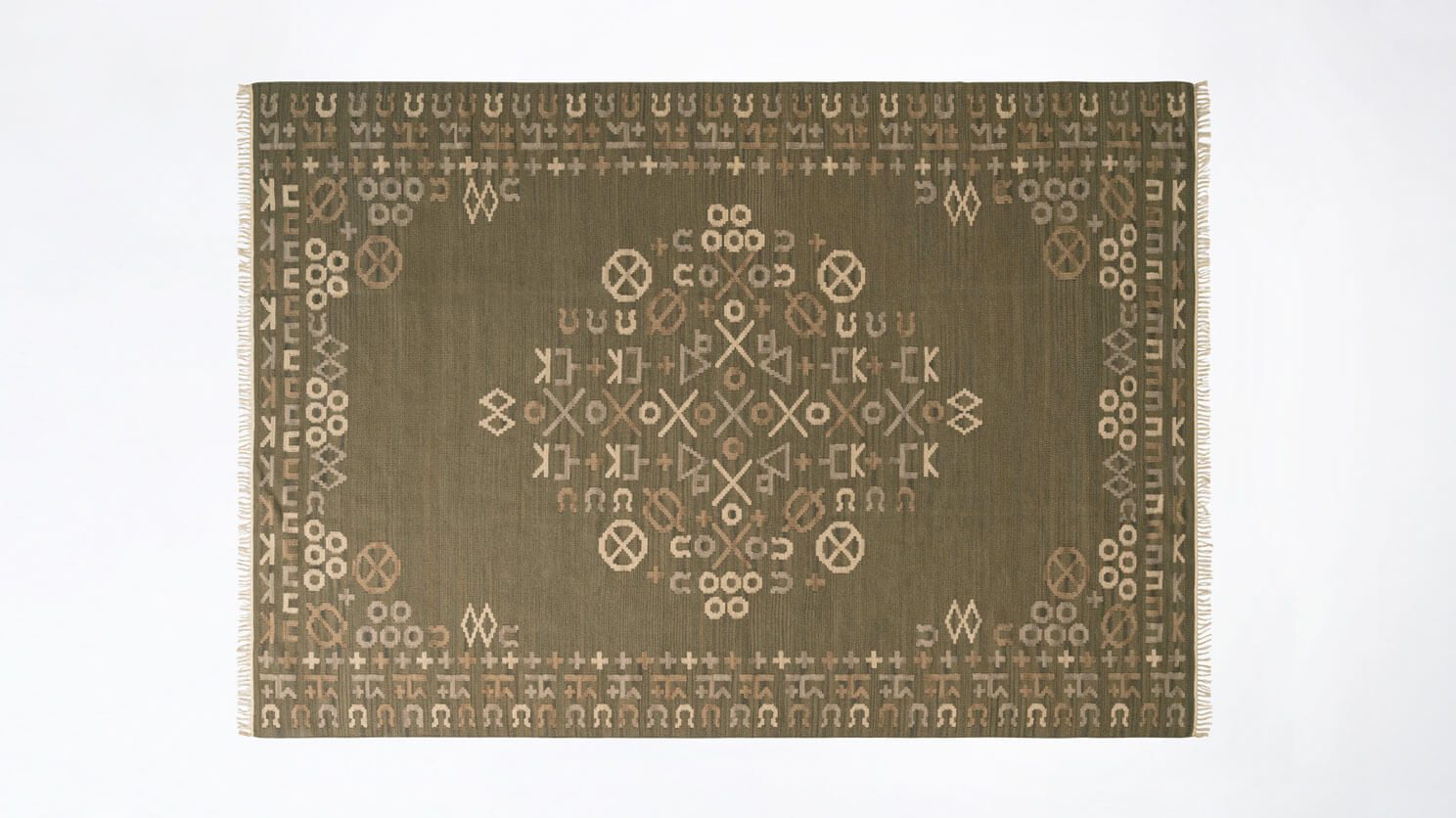 EQ3 Nomad Rug
The beautiful and unique Nomad rug is inspired by the traditional Mazandaran kilim rugs of northern Iran. These rugs are dyed at the fibre stage, which gives them a unique blend of colour, and the broken stripe design adds depth to any room. Made from 80% wool and 20% cotton, these lightweight rugs are handwoven on a pitloom, and their high-quality flatweave makes them incredibly durable and long-lasting with proper care.
2'x3′ ($79.99)
2.6′ x 7′ runner ($199.99)
5'x8′ ($499.99)
6'x9′ ($649.99)
8'x10′ ($999.99)
All of these rugs, plus the entire EQ3 collection, is available to order at Tuck! We're proud to be the exclusive retailer for everything EQ3 in New Brunswick. Visit us, 122 Prince William Street in Saint John, to view the collection and order your EQ3 products today!