Improve Your Home Office With Help From Tuck
The Novah Collection from EQ3 is a favourite at Tuck because of its customizability. Choose from a straight desk or L-shape, charcoal or white base, and a white, walnut or bamboo top.
Pair it with the EQ3 Novah Pedestal to keep things tidy and organized!
The EQ3 Novah mobile pedestal offers file storage encased in a durable white or charcoal metal. Castors help easily move the pedestal to nest under the desk. Add on an optional cushion, available in any EQ3 fabric for an extra spot to sit.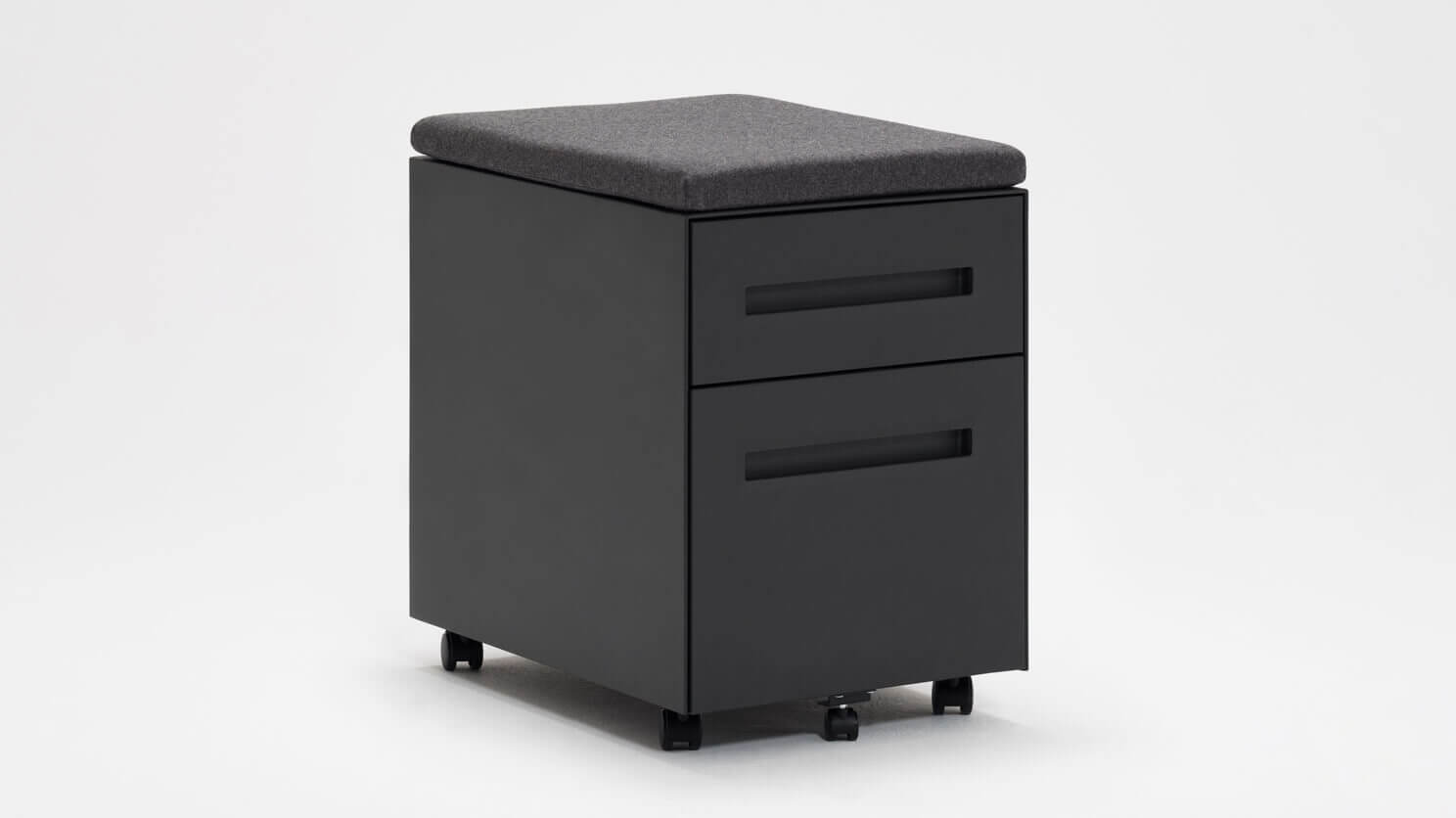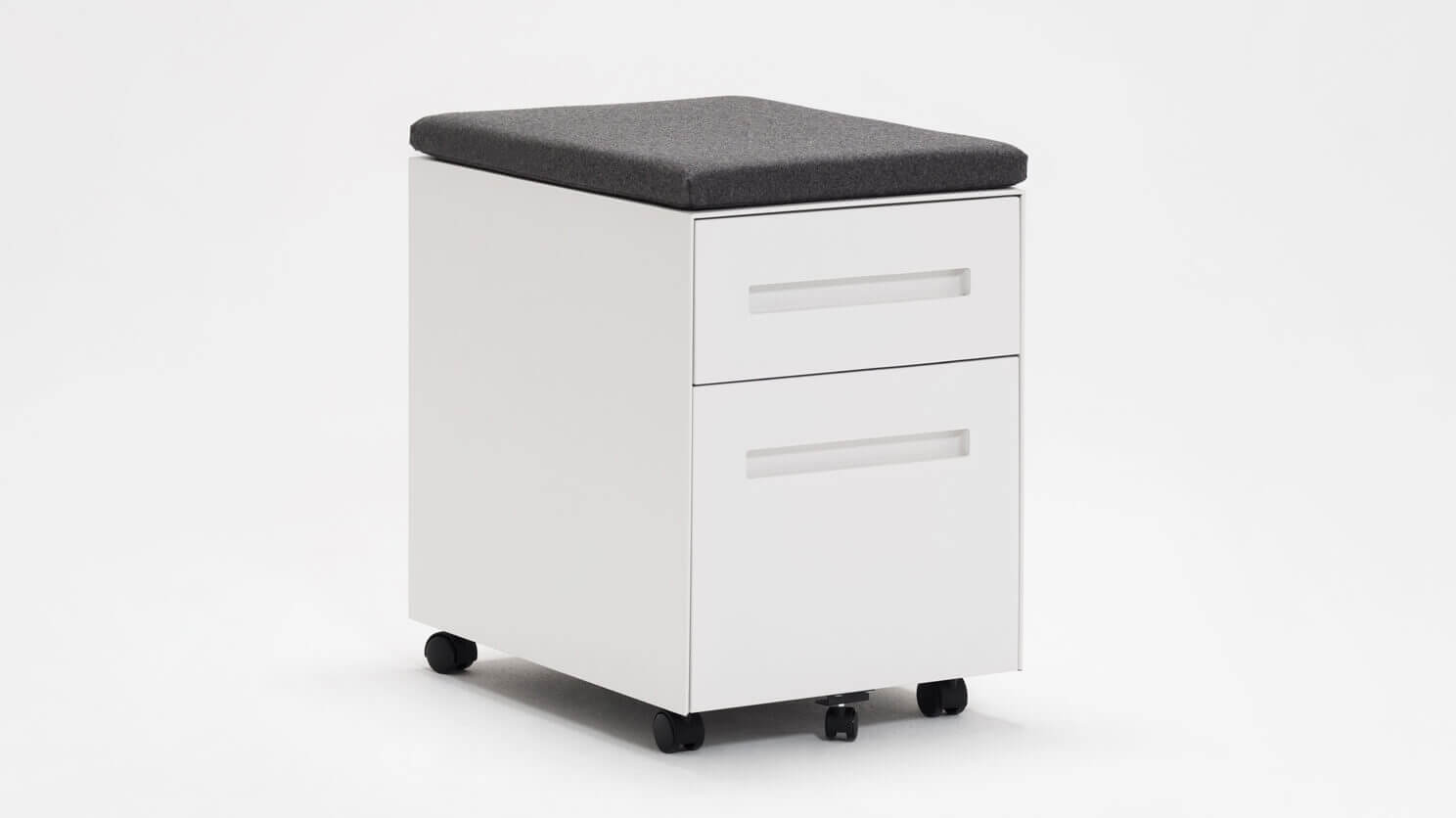 Novah Pedestal
Cushion (starting price)

Now for the really fun part – decorating!
We love Umbra because their products are both functional and beautiful, with consideration taken in all aspects of how their designs will fit into your life.
As always, all Umbra products ship for free direct to you, anywhere in Canada! Shop the entire collection using our online shop. 
[products columns="4″ orderby="title" order="ASC" ids="40059, 41278, 41285, 38557, 39094, 39009, 41302, 41308, 39049, 42505, 42672, 42679″]
You're done! Now you're set to work from home and be at your most productive.
Tuck team member, Josh, is used to our current circumstances as he has been working from home in his Surrey, BC apartment. Here are his tips and advice on working from home! 
1. Stick to your regular schedule. 
Working from home, it's tempting to sleep in a little later or adjust your schedule a bit. Resist the urge and stick to your regular schedule. Get up at the same time you usually would, keep your morning routine as much as you can, and start work at the same time as you would if you were heading to the office. Take a lunch break at the same time, and clock out at the same time at the end of the day. 
2. Give yourself a designated workspace, with plenty of natural light. 
Working in a place that's bright and has plenty of light is so important! Don't confine yourself to a dark room or a closet simply because it's quiet and removed from the hustle & bustle of your home. 
3. Try to keep distractions at bay. 
If you live with anyone else (partner, spouse, kids) there are going to be a lot of distractions in your home. Try to choose a quiet space to do your work but if you must work in the middle of all the action for some reason, say to get closer to the natural light for instance, I suggest creating a playlist of your favourite music and working with headphones in or picking up some good ear plugs. It'll help you to stay on task and avoid distractions. 
4. Stand up and move around 
If you work in an office, you've heard many times the importance of getting up to move around and standing. This is especially true when you work from home. It's tempting to lounge on the couch all day working from your laptop but it's not healthy and you'll feel achy and sore by the end of the day. If you have a place to stand and work, try to do it as much as possible. If not, just remember to stand up for a bit and take small breaks throughout the day. 
5. Get some fresh air! 
Remember that a world outside your home exists. Throughout the day, step outside and breath in some fresh air. If it's a sunny day and it's relatively warm, open a window. You'll feel refreshed and be much more productive. 
6. Surround yourself with plants! 
Plants are amazing in a home office for air purification, decor, and for your mental health. The colour green is said to help alleviate anxiety, gives a sense of renewal, harmony, and makes you feel safe. So trick out your office with some plants and pair them with some of our Umbra planters. 
[products columns="3″ orderby="title" order="ASC" ids="39286, 39260, 39825″]
7. Get dressed in the morning! 
This might sound like a no-brainer but it's tempting to work in your most comfortable clothing (sweat pants, pj's, nothing…). Resist the urge and act as if you're still heading to work. Get dressed, do your hair, shave, whatever your regular morning routine is. You'll feel better all day and guaranteed you'll be more productive. 
[products columns="3″ orderby="title" order="ASC" ids="41099, 41917, 42773″]
We hope you found this post helpful as you transition into working from home! For more information on products featured and to order anything that isn't through our online store, please contact us.